Maximize Milk Supply 
without wasting money on expensive supplements or being hooked up to a pump all day 
➡️ Make enough milk for your baby without having to stressfully count every single oz
➡️ 
Nourish your body effectively postpartum to boost energy, mood, metabolism & milk supply
➡️ B
reastfeed for as long as you want while still having a life & keeping your sanity
I'm In! I need this.
You can get
results

 just like this mama...
Real Talk. Breastfeeding doesn't have to suck.
If you're reading this right now, there is a good chance you just want breastfeeding to be easy & enjoyable.
Let's face it, if all it took was a simple hack off instagram to solve all of your issues, well, then chances are you would have already had a freezer full of milk by now and you wouldn't be here reading this...
And maybe you've tried buying the expensive supplements, drinking more water and following the advice that worked for your friend and you're still stuck wondering "Why isn't this working for me? What am I doing wrong?"
It's not that you're not trying hard enough or being lazy. It's just that you haven't tried the right strategy yet. 
The truth is, if the support moms were currently getting from the medical system & society worked, then most moms who intend to breastfeed would breastfeed as long as they desire without any problems. And that's not the case. 
This is why if you're struggling, you're not alone.  In fact, 60% of moms stop breastfeeding before they want to - due to concerns over making enough milk, lack of support and pain. 
Just because it's common to struggle, doesn't mean it has to be your story. 
After a decade of experience as a Lactation Counselor & Registered Dietitian, I realized something that changed everything. Addressing the root cause issue early AND optimizing your nutrition is the most effective way for moms to make enough milk for their babies & overcome pain to have the beautiful bonding experience they've always wanted.
Breastfeeding Blueprint is for the moms who aren't ready to wean yet, the moms who make the decision to invest in the support they need to save her family massive amounts of money, time, pain & tears... and for the mamas ready to take action, make a change & get results in 2 weeks or less.
You have
2 choices

on how you want your breastfeeding journey to go...
Without Breastfeeding Blueprint
❌ unsure how to latch your baby correctly, experiencing pain when latching or stressing over your baby's weight & growth
❌ worry if you'll be able to make enough milk for your baby, especially if you need to step away for a few hours or go back to work
❌ feelings of guilt or failure if you are unable to breastfeed as long as you want
With Breastfeeding Blueprint
✅ confidently latching your baby correctly without pain, your baby growing well & having a beautiful bonding experience
✅ opening your freezer & seeing you have plenty of milk for when you want to have a night away or go back to work
✅ feelings of gratitude that you were able to breastfeed as long as you wanted 
Which 

choice 
will bring you closer to having the breastfeeding journey
you want?
The only difference between you and these mamas is saying yes to making a change & asking for help.
So, quick question, mama.
Do you really want to

continue

stressing

about making enough milk

,

trying to

push through pain

or 

struggle alone?
Or, are you ready to finally have a 

pain-free

breastfeeding experience,

make enough milk

for your baby & get the support you need to have the

easy & enjoyable breastfeeding experience

you've

always

 wanted.
Introducing
Breastfeeding Blueprint
The

proven step-by-step method

for breastfeeding moms make enough milk for their babies, feed without pain and nourish their babies & bodies.
In 2 weeks or less, you'll... 
➡️ Discover the

root cause issues

to pain or low milk supply & how 

treat it quickly

to get back to breastfeeding without pain or anxiety
➡️

Nourish

your body well so that you can

boost energy, mood & milk supply

to have a stress-free postpartum experience
➡️ Have the

individualized & community support

you need so that you don't feel alone and you feel encouraged during the ups & downs
MODULE 1
From Bump to Breast
Understand your breastfeeding hormones, recommendations and benefits of breastfeeding, how often your baby needs to eat, how to know baby is getting enough milk & how to establish a good milk supply early on.
Get clarity on common questions like how to hand express during pregnancy, when and how to use a haakaa,  birth control while breastfeeding so that you can be confident you are making safe decisions for you and your baby.
MODULE 2
Feed with Ease
Overcome or prevent the top 11 issues like low milk supply, tongue & lip ties, nipple shields, pain with latching, thrush, mastitis, clogged ducts, engorgement, milk blebs, flat or inverted nipples, biting, and weaning so your breastfeeding journey is enjoyable & pain-free.
Rather than spending time googling information or asking friends and family & getting conflicting & outdated information, get the specific answers you are looking for (when you need them) that are approved by a Lactation Counselor & Registered Dietitian.
MODULE 3
Pump It Up!
Feel confident using your pump, stick with a consistent pumping schedule and protect your milk supply without losing your sanity or feeling like your entire life is attached to a pump.
Understand how to measure your flange size correctly, how often to change pump parts, how to prevent bottle refusal, how to use a double electric breast pump, tips for traveling or going back to work, milk storage guidelines and more!
MODULE 4
Nursing & Nourished
Nourish your body with the

right balance of calories, protein, carbs with fiber and fats to boost milk supply

and feel your best postpartum. Plus, you'll get clarity on calories, hydration and weight while breastfeeding. 

Leverage your nutrition for better mood, energy, metabolism and milk supply by knowing how to build your own balanced meals and snacks.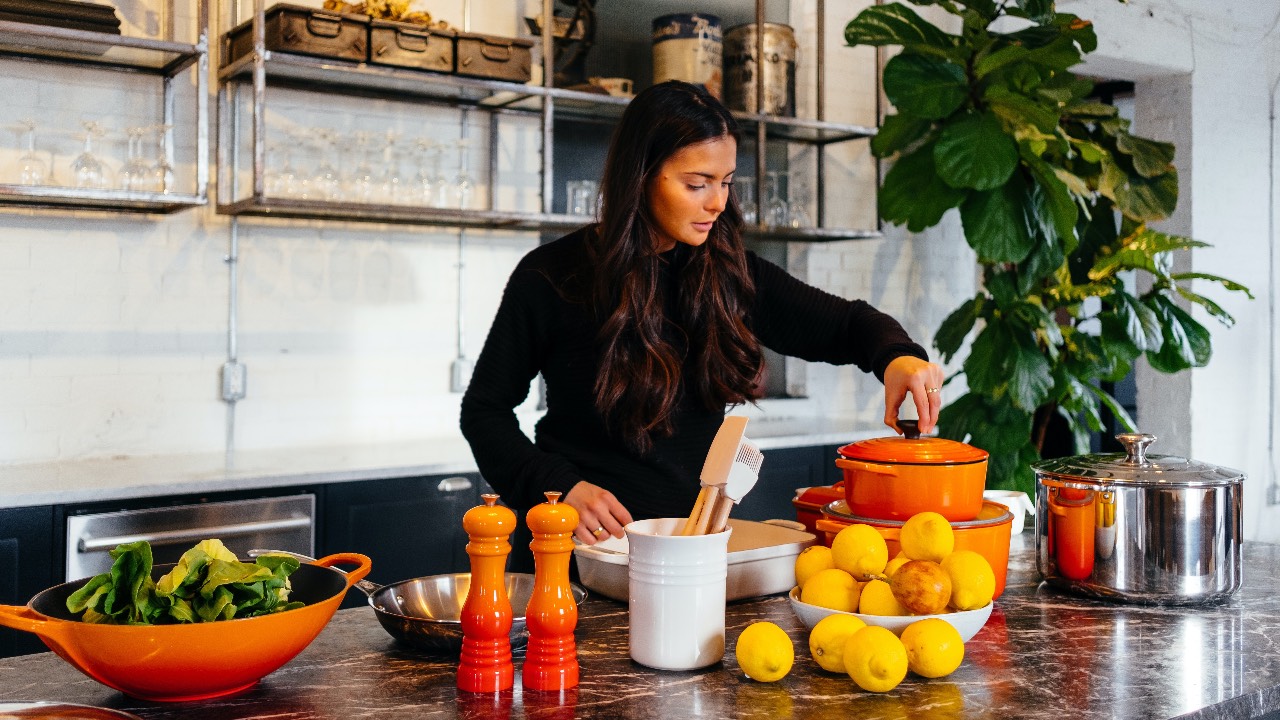 MODULE 5
Breastfeed, Eat, Repeat.
Feel confident with caffeine, alcohol, medications, supplements, teas & galactagogues while breastfeeding, so that you won't decrease milk supply. Learn what foods to increase in your diet to support milk supply. Infant allergens are also covered (example: if your baby has a cow's milk allergy).
Meal prep with simple and balance meals (vegan, vegetarian, dairy free and gluten free recipes included) to support healing after birth, energy, mood and milk supply. All recipes are busy mom approved! Plus, you'll get fast food guides, snack ideas, smoothies recipes and nutrient recommendations for breastfeeding and postpartum.
BONUS
One on One Messaging Support ($997 Value)
wondering if your latch looks okay?
want to know if your baby's weight gain is adequate for their age?
having difficulty diagnosing the source  of pain or low milk supply?
want a dietitian to help you adjust your meals & snacks to help you heal faster after birth, boost energy & protect milk supply? 
We'll exchange messages (text, picture, voice or video messages) in a private app so you can feel confident and empowered on your breastfeeding journey. You have unlimited questions throughout your week! Schedule your week once baby arrives or choose the week you need the most assistance.
I'm in! Enroll Here.
You can get
results

 just like this mama...
Okay, so what's the investment? 
Many moms find themselves

spending thousands of dollars

to fix breastfeeding problems.
Overpriced

supplements cost hundreds

of dollars, even though many don't work or can harm milk supply.
Several visits to the Lactation Consultant's office can add up to $1000

(plus the time & energy you spend hauling your baby around town).
Formula costs up to $3000 per year

.
My one on one nutrition clients pay

thousands of dollars

for a coaching package. 
When I polled my audience asking how valuable making enough milk for their baby would be, they said the value is 

worth thousands of dollars. 
The truth is, you don't have to spend thousands of dollars to get the support you need - and you can get it from the comfort & convenience of your own home.
WHEN YOU JOIN TODAY, YOU'LL

 SAVE 60% OFF!
And, YES, you can use your Health Savings Account (

HSA/FSA Approved

)
90-DAY MONEY-BACK GUARANTEE
This program is for moms who are ready to take action & make a change. Because I'm so confident this program will give you results, I'm offering a money back guarantee. If you complete the program & for whatever reason it doesn't help you, just email me at [email protected] requesting a refund within 90 days. There is literally no risk. You'll get the results you want or your money back.
Plus, you'll get all of these
BONUSES

 when you join today! ⤵️
Bonus: Body After Baby  
Feel confident in your post-baby body!
Support Hormones & Metabolism: Add in healthy habits without sacrificing your milk supply. 
Weight Workshop: Find your healthiest weight without dieting. You'll be able to identify what's been blocking you from improving body image or finding your happiest and healthiest weight.
Body Image Workshop: this workshop is led by a body image therapist on how to feel more comfortable with your changing body.

($497 Value)
Bonus: Free Month of Support & Community
Inside this community, you'll be able to improve your breastfeeding & postpartum experience with support and guidance from me & other Registered Dietitian & Lactation Counselor Coaches

Celebrate your wins & feel encouraged on your journey
Join Now!
Here's why Breastfeeding Blueprint is the easiest & most convenient solution. 
 ✅ You'll have individualized support after your baby is born from a Lactation Counselor & Dietitian when you need it. You can message me conveniently while you're feeding, pumping or snuggling your sweet baby. 
✅ You'll know exactly what foods to eat and how to fuel your body best to boost energy, mood, metabolism, postpartum recovery time & milk supply. 
✅ Get the answer you need when you need it  (24/7) & revisit the information when you need a refresher! Because, how likely are you going to actually remember every detail of your hospital class 6 months later at 2am when you're in pain or worried about milk supply (and are sleep deprived)?
✅ You'll have lifetime access & all of the updates & additions. Which means if a protocol changes, you'll be getting the most up to date information from a trusted source. 
✅ Learn everything you need to know from the comfort of your own home at your own pace rather than trying to digest all of the information at once in a hospital classroom on a Saturday morning.
This is possible for you, too. 
It's time to make a decision.
Option #1: Do Nothing
Many moms hold on to hope that somehow things will turn around without intervention. But, we all know that if we want different results, we must take different action. Nothing changes, if nothing changes. When it comes to breastfeeding, if you go too long with pain or milk supply issues, things tends to get worse over time & harder to reverse.
Option #2: Go All In
If you're ready to have the support & education for anything that comes your way with breastfeeding, have instant access to the tools you need to overcome common breastfeeding issues & have someone encouraging you on your breastfeeding journey you've always dreamed of - then your decision is simple.
Hey mama,
I'm Brooke Miller
Before becoming a mom, I spent years of my career teaching breastfeeding classes, piloted a breastfeeding program and counseled thousands of moms on how to successfully breastfed in person and virtually. 
I understand how difficult & stressful breastfeeding can be. After I had my first son, we faced complications with breastfeeding. He was born prematurely, had open heart surgery at a few months old and has Down syndrome. We were able to exclusively pump (not what I envisioned for our journey) until his open heart surgery. He transitioned to breastfeeding and we were able to reach our goal of breastfeeding 2 years. Plus, I was able to donate hundreds of oz of milk to babies in need.
With a decade of experience as a Registered Dietitian and Certified Lactation Counselor, I created Breastfeeding Blueprint to support moms with establishing a good milk supply, being prepared for what to expect, how to overcome obstacles to have a pain-free and enjoyable breastfeeding journey for as long as they choose.
How long will I have access?
I'm a busy mom. How long will this take to complete?
Why should I invest in this program?
When is the best time to join?
Are my results guaranteed?
Can I use HSA/FSA or insurance?
What if I need more support?
Disclaimer: The information contained in this course are of a general nature. They are not intended to treat, diagnose, or give specific medical advice. While all content is written by a registered dietitian & lactation counselor and strive to provide only accurate, scientific-based information, your specific health needs may or may not apply to the content contained on this website and related content. It is not intended to diagnose or treat any specific medical condition. All content is copyrighted, and must be used only with permission and citation to Brooke Miller Nutrition LLC. Brooke Miller, RD shall not be liable for any direct, indirect, incidental, consequential, or other damages which may result from the information and content.